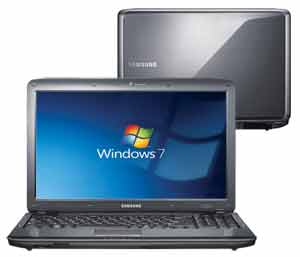 Speed: Features AMD Phenom II Quad-Core N970 2.2 GHz Processor.  The speed is lightning fast.
Storage: Offers huge storage capacity with a 640 GB hard drive. Hard drive speed is 5400 RPM which is normal for laptops.
Memory: Amazing 6GB DDR3 RAM.  Great for multi-tasking.  Will run Windows 7 and most applications without any slowdown.  DDR3 offers faster memory speed. Great for multi-tasking.
Display: 15.6″ Display, 1366 x 768 widescreen resolution. Has LED Backlit display which conserves battery life.
Optical Drive: Comes with 8X Super DL DVD Writer. Can make DVDs upto 8.5 GB in size.
Graphics: Features AMD Radeon HD 6630M (PowerXpress) dedicated 1 GB graphics memory. Great for playing graphics intensive games.
Wireless: Features integrated 802.11 b/g/n adapter.  802.11N offers stronger signal reception. Also has an ethernet port. Samsung N970 laptop is bluetooth capable.
Others: Has built in webcam and microphone. HDMI connection allows connecting the laptop to HDTV. Has built in memory card reader.
Battery: 6 Cell Lithium ion Battery. Estimated battery life is up to 4 hours.
Overall Rating: Ideal for gamers, students, home use and business use.  6GB RAM, 1GB Dedicated video memory and quad core processor will make gaming a breeze. Look for a price near $450 to $550.