A picture is worth a thousand words. This is specially true when you want to convey your message clearly through an email. Your clients or co-workers will understand your message better when you add in a picture or an image into your email message body. This article will discuss how to insert an image in an email.
We will not be looking at attaching an image as a file, rather, how to display an image within the body of an email. Many try to attach an image by copying and pasting it or by clicking on Insert > Attach File > Browse this PC and selecting an image file. This will attach as a file rather than displaying the image within the body of an email.
How to Insert an Image in an Email using the Insert > Picture Option
Click on New Email icon to start a new email.
Step 1: Click on Insert
Step 2: Click on the body of the email message to activate the icons under the Insert tab
Step 3: Click on Pictures
Step 4: Browse for a file and click on Insert

Insert an Image using the Screenshot Method
This method is particularly useful when you want to capture a screenshot or a include an open image. To begin, open an image file by going through Windows Explorer or File Manager. Then, from Outlook, click on Insert > Screenshot and choose the image listed under Available Windows. You can crop the image to cut out unwanted portions.
Insert an Image Using the Snipping Tool
You may also take a screenshot of an image by opening the image and using the Snipping Tool software included with most Windows 7 and Windows 10 computers. To start Snipping Tool, click on the Start icon and just type "snipping tool". It should appear in the list of programs or apps. Start Snipping Tool and take a snapshot of the image by clicking on New. Then right click on the snapped image and select Copy. Then you can press Ctrl + v or right click to paste the image inside your email message body.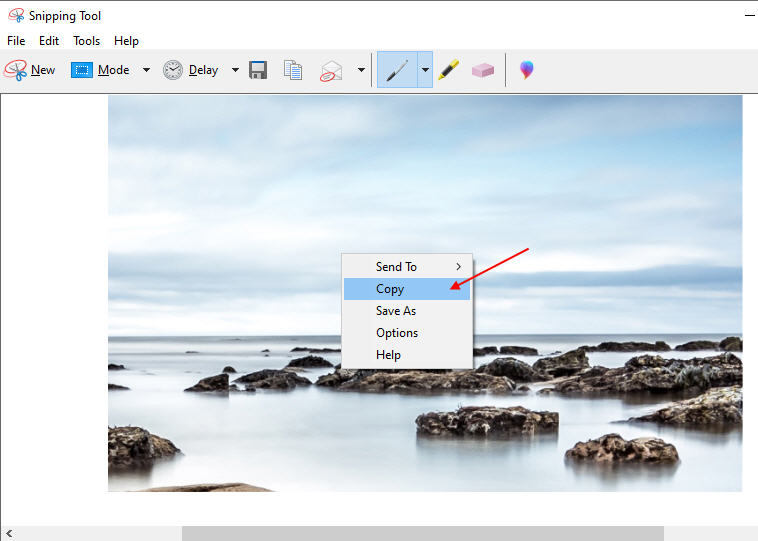 That's it. These are some ways you can insert an image into your email using the tools your computer already has. Do you have another way of adding an image into an email? If so, please share using the comment form below.