Today, while searching for something online using the Google search bar on my Android phone, I kept getting the error that the Google app stopped working. The search opened Chrome for a few seconds before crashing. All of a sudden, I kept getting similar error messages from a series of popular apps including Gmail, Flipp, Yahoo Finance and more. Frustrated, I uninstalled couple of apps to see if that worked, but it didn't. Later, after searching online, the following solution was discovered by users who were facing the same issue. This article discusses how to fix Android apps that keep crashing after opening.
Fix Android Apps Keep Crashing After Opening
Here are the step by step guide for fixing this issue.
Step 1: Open Google Play Store.
Step 2: Open Play Store menu bar by tapping on the horizontal bars.
Step 3: Tap on My Apps and Games.
Step 4: Tap on Installed to open a list of installed apps.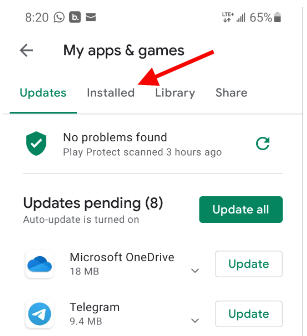 Step 5: Scroll down until you locate Android System Web View app. Tap Open.
Step 6: Tap Uninstall to remove Android System WebView app.
After uninstalling the Android System WebView app, the problem disappeared. This solution also worked for many who were facing the same issue.
Android System WebView app simply displays web content directly inside apps. While a solution is being worked on, this solution should help you avoid the annoying alerts about apps keep closing.