This article discusses how to password protect emails in Microsoft Outlook. This process is officially known as encrypting emails in Outlook. Password protecting emails causes the email messages to appear in the form of cipher text which cannot be read without a password or key.
Encrypting an email message with a password is done through a digital signature and a private key. If the recipient of the email doesn't have the correct private key, he/she will see the following error messages:
"This item cannot be displayed in the Reading Pane. Open the item to read its contents." or "Sorry, we're having trouble opening this item. This could be temporary, but if you see it again you might want to restart Outlook. Your Digital ID name cannot be found by the underlying security system."
Before you can password protect the emails you send, you will first have to get a Digital ID (Certificate).
How to get a Digital ID for Outlook
Click on File > Options > Trust Center
Under Microsoft Outlook Trust Center, click on the Trust Center Settings button.
Click on E-mail Security on the left pane.
Under Digital IDs (Certificates), click on the Get a Digital ID button and sign up for an ID. Comodo.com offers free secure Email Certificate (S/MIME) which allows encrypting emails.
Install the Digital Certificate to your device.
How to Password Protect Emails in Outlook (Encrypt Emails)
Once you have a Digital ID, follow these steps to password protect an email:
Click on New Email to compose a new message.
On the compose message window, click on File > Properties.
Click on Security Settings.
Click to select the Encrypt message contents and attachment text box. Click OK.
Compose your message and Send.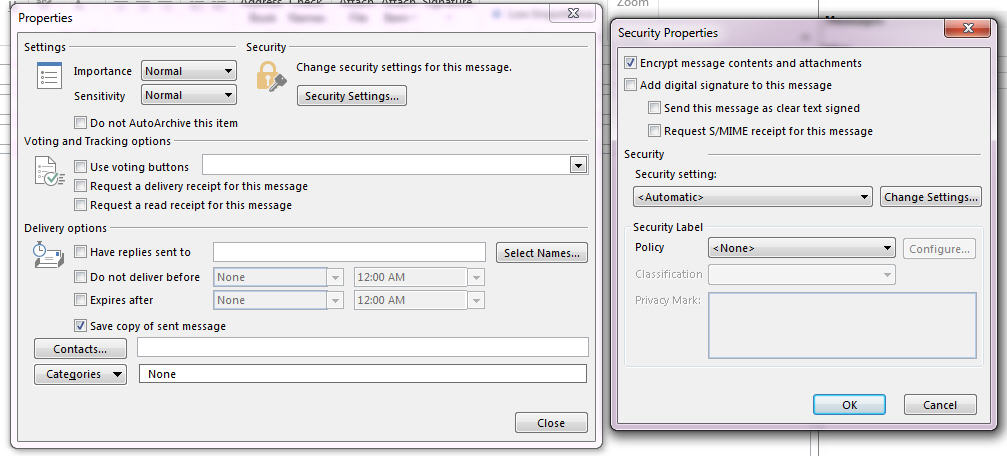 You will need to share your public digital ID with your recipient in order for him/her to open the message.
Password protecting emails have the following benefits:
Ensures emails remain private and confidential
Makes emails trustworthy as it contains your digital signature
Only your intended recipient will be able to read the email
Verifies that your email message was not tempered with
Prevents identity theft