Let's face it, we all have some personal videos that we don't want our friends and family members to see. It is just part of being a human. If you have some sensitive videos which are better hidden than visible, it is quite easy to hide videos using Microsoft Windows Explorer.
You just have to check few settings in Windows Explorer before you are able to hide the videos. First of all, check to see if the video file extension names show up. For example, the video you wish to hide shows up as Example.mp4 in Windows Explorer instead of just Example. In the aforementioned example, .mp4 is the file extension name.
To ensure that the extension name is visible, click on Tools > Folder Options. A dialog box will open.
In the dialog box, click on View tab. Scroll down and locate Hide extensions for known file types checkbox. Ensure that the checkbox is not checked. This will display the extension of all files in Windows Explorer.
Once you have the extension names visible, follow these steps to hide videos.
How to Hide Videos in Windows Explorer
Navigate to the folder where your video is located.
Single click on the video file name to select it.
Press F2 or Right Click and select Rename.
Delete the extension from the file including the dot. So, if your file name was called Example.mp4, delete ".mp4" from the file name.
Windows Explorer will warn you that the file may become unusable once the extension is removed. Do not worry, click OK. When you are ready to use the file again, you can rename it to add in the extension and the file will become usable once again.
As soon as you press OK, you will notice that the video icon changed to a blank rectangle. If you double click on the file to open it, Windows Explorer will not be able to.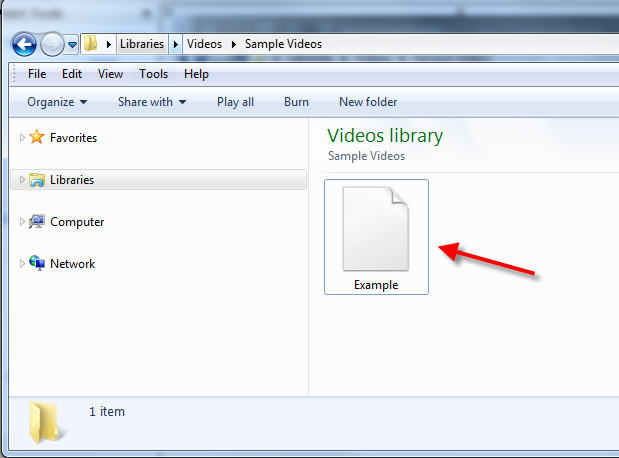 That's it! Now you have successfully hidden a video file in Windows Explorer. Once you are ready to watch this video, simply right click on the file and rename it to add in the extension. The file will return back to normal. For added security, consider giving the file name, in our case Example, a more non-obvious video name like Exml. Only you would know what it stands for. Others will have no idea that it is a video file.
You can also transfer this file to your mobile device and it will remain as an unknown file. Once you are ready to watch this video on your mobile device, tap and hold on the file and choose Rename. Then, add in the extension at the end of the file name and it will revert back to a video file. Check out our guide on how to hide videos in Android phones.