Microsoft Outlook has a field just below the Subject line for listing files which are attached to an email message. However, sometimes you may come across a scenario where you are trying to paste or insert a file as an attachment but Outlook is putting it within the body of the message instead of the Attachment field. See the picture below for an example.
This type of attachment certainly doesn't look very aesthetically pleasing. If you are trying to figure out what to do in order to put this attachment back into the Attachment field, follow these steps:
Step 1: Click on the Format Text tab as shown below.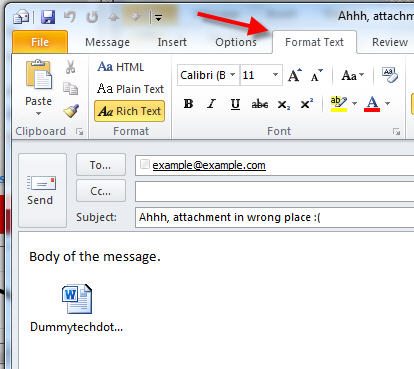 Step 2: In the Format Text tab, you probably have Rich Text selected as the Format as shown below.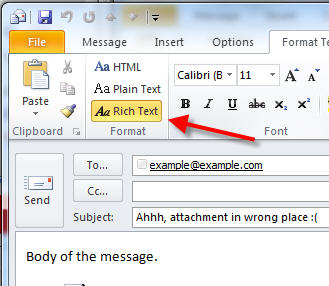 Step 3: Click and select HTML as the format as shown in the picture below.
Step 4: You will now notice that the attachment gets automatically relocated to the "Attached:" field.
That should solve the problem. On the other hand, if you want to revert back to having the attachments within the message body then simply select Rich Text from the Format Text tab.