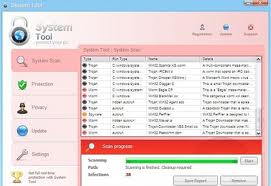 Have you been inflicted by the annoying System Tool 2011 virus? Is it popping up and taking over your system every few minutes? System Tool is a dangerous spyware that can steal your sensitive information from your computer. The good news is that we have easy to follow removal instructions for you to get rid of this problem.
Here is what we did to remove the virus completely from an infected system. You will need to download two free anti-spyware software. Spy Bot and Malwarebytes. Download the programs, install them, and update both software by following their selected update options.
Once the software are updated, boot into Safe Mode (follow the link and read Step #3 for instructions ) with Networking feature enabled.  Run Spy Bot first and Scan for Problems. Spybot should find the main program that runs the virus. During scanning, be sure to keep cancelling or closing any popup windows that show up due to System Tool virus. Complete the scan to the end and Fix any problem that Spy Bot finds.If you are prompted to restart, do so, however, return to Safe Mode again.
Once you are done with SpyBot, close the program. Run Malwarebytes Anti Malware and do a Full Scan. Malwarebytes will find the remnants of the virus and help you eliminate them. You will be prompted to restart again. Do so and this time, you don't have to return to Safe Mode.
That's it. Your computer should be free of this nasty problem and return to normal condition. To prevent having this problem in the future, please surf responsibly and avoid going to doubtful websites. Consider having an active Anti-Virus running on your system. Here are some free anti virus programs.