1. Angry Birds Rio HD:  What happens when everybody's favourite fierce fowl get caged and shipped to Rio? They get very angry!  In Angry Birds Rio, the original Angry Birds are kidnapped and taken to the magical city of Rio de Janeiro, where they eventually escape their captors and set out to to save their friends, Blu and Jewel – two rare macaws and the stars of the upcoming Fox motion picture, Rio. Angry Birds Rio will pair the physics-based gameplay of the original game with unique twists based on the film.
2. Superbrothers: Sword & Sworcery EP: An exploratory action adventure with an emphasis on audiovisual style. Traverse a mythic little realm, use a sword to do battle & evoke sworcery to solve mystical musical mysteries. Co-operate with friends via Twitter, experience a video game world that is affected by moon phases & help a wandering warrior monk complete her woeful errand.
3. Jenga HD: Jenga is a game of physical and mental skill created by Leslie Scott, and currently marketed by Parker Brothers, a division of Hasbro. During the game, players take turns to remove a block from a tower and balance it on top, creating a taller and increasingly unstable structure as the game progresses. The word jenga is the imperative form of kujenga, the Swahili verb "to build". Jenga itself means build in Swahili.
4. Infinity Blade: "In ChAIR's ground-breaking iOS game, players brandish their armor and unsheathe their steel as a heroic knight in a journey to defeat the sinister God-King and his brutish Titans. A robust single-player campaign welcomes anyone to jump into epic boss battles with simple touch controls and an intuitive combat interface. Through basic swiping commands, players can spar with opponents, upgrade skills, cast spells and loot items. Players gain experience by building stats and unlocking achievements to earn more powerful items in their quest to overthrow the God-King's stronghold and free the kingdom's citizens from an endless legacy of darkness." – Epicgames.com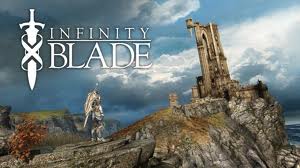 5. Real Racing HD: Real Racing HD offers the most realistic racing experience available on iPad. With all the content of the iPhone version plus enhanced features, graphics and gameplay to take full advantage of what iPad and iOS4.2 are capable of, this is hand-held racing like you've never seen before. Are you ready for all the excitement, competition and glory that only real championship racing can deliver?
6. Plants vs. Zombies HD: A mob of fun-loving zombies is about to invade your home. Defend it with an arsenal of 49 zombie-zapping plants that will slow down, confuse and mulchify all 26 types of zombies before they reach your door.
7. Asphalt 6: Adrenaline HD – Feel the thrill of racing like never before in the newest adrenaline-pumping edition of the Asphalt series with new features specially designed to show off the full potential of the iPad 2. Asphalt has never looked so breathtaking thanks to real-time reflections on cars, specular and bump mapping for richer surface textures, more realistic shadows, cinematic blur effects for boosts and crashes, deeper draw distances, improved particle effects for smoke, collisions and more, and anti-aliasing for smoother edges on all 3D objects.
8. X-Plane: Welcome to the world of gliders, X-15's, F-22's, airliners, light planes, aircraft carriers, fighter jets, and much much much more, all in hi-res, and all in ONE HUGE APP, optimized to fill every single pixel of the iPad in ultimate detail.
9. Chaos Rings: CHAOS RINGS takes full advantage of the iPhone and iPod touch's capabilities. Using a classic game system that any RPG fan will enjoy, it presents an epic tale consisting of four different scenarios, all brought to you with gorgeous sound and unbelievably smooth 3D graphics. The story revolves around a tournament where combatants fight for their lives: the Ark Arena. Upon choosing a pair of characters, one male and one female, you will then have to fight against the other pairs. Each pair has their own story, and the truth behind the Ark Arena will not be revealed until each story is completed.
10. N.O.V.A. 2 – Near Orbit Vanguard Alliance: 6 years have passed since the events depicted in the first episode. Humanity is now thrown into a bloody civil war fought on one side by the central government of the Terran Orbitals and the self-appointed Human-Alien Alliance; a new organization with a mysterious origin and agenda. Kal Wardin left active service in N.O.V.A. years ago and now lives among the colonists of the desert planet Scorpius. But war never spares even the most peaceful places…