Let's say you are trying to setup a Skype meeting using your Outlook 365. You click on New Items found under the Home tab in Outlook but the Skype meeting option is no where to be found. Don't panic. The option is possibly disabled in your Outlook and by following the instructions in this article, you will be able to enable them. This article discusses how to enable Skype meeting when it doesn't show up in Outlook 365.
How to Show Skype Meeting Option in Outlook 365
Skype meetings are revolutionizing how businesses work. Imagine coordinating a meeting right from the comfort of your desk without having to walk to a meeting room or drive around town. Skype allows you to conduct meeting no matter where you are. But, it's no use if you are unable to create a Skype meeting at all. Here are the steps for enabling Skype meeting option in Outlook 365. For Skype meeting option to show up, you will need to have Skype for Business installed in your computer.
1) Open Outlook 365. Click on File.
2) Click on Mange COM Add-ins next to Slow and Disabled COM Add-ins.
3) Click on Options under Skype Meeting Add-in for Microsoft Office and ensure Always enable this add-in is selected. Click Apply and then Close.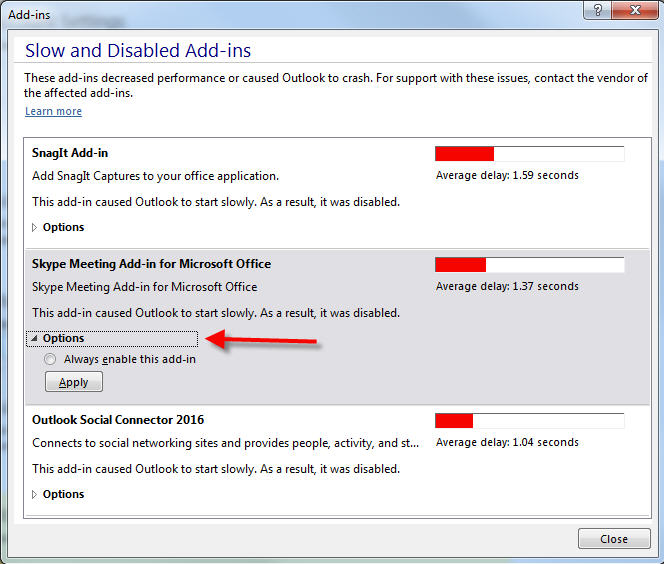 You can now create Skype Meetings by going to Home > New Items > Skype Meeting.
Alternate Ways of Turning on Skype Meeting in Outlook
If for any reason you don't see the Mange COM Add-ins from File tab, don't worry, the following will work.
Click on File > Options > Add-ins. Ensure COM Add-ins is selected next to Manage. Click on Go button.
From the COM Add-ins window, ensure the checkbox next to Skype Meeting Add-in for Microsoft Outlook is checked. Click OK.
Once you follow the above steps, you will see the Skype Meeting option showing up in Outlook.