I have been a long time Yahoo Mail user and was one of the first ones to jump on board as soon as the Android app became available. Years later, I am noticing that the Yahoo Mail App loads super slow on my 16GB Android smartphone. Often, it takes over a minute for the app to load emails during which all I see is a blank screen.
I updated the app to the latest version using Google Play Store, however, it did not solve the problem. To make matter worse, the app became even slower after the recent update. I played around with the app and finally came to find the solution which fixes this problem
How to Fix Yahoo Mail App Loading Slowly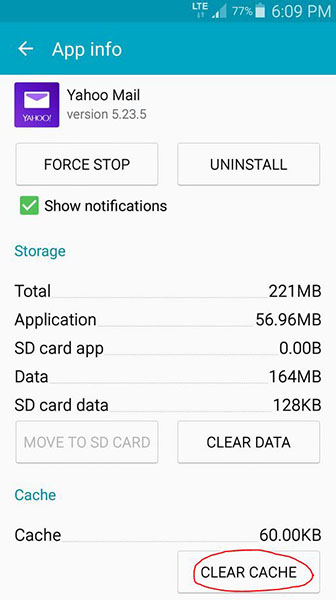 Here are the steps to fixing this problem quckly and easily:
Navigate to your device's Settings > Application Manager or Apps.
Locate Yahoo Mail app and tap it.
You will see several buttons. The button you want to tap on is the Clear Cache button. This will immediately clear out all the junk files stored by the app which is supposed to make it load quicking in the future, but rather it slows down the app in older phones.
Exit the Application Manager and open your Yahoo Mail app. You will now notice that the app loads instantly without delay.
Be sure not to tap on the Clear Data button as that will pretty much reset your application to original. You will lose your login credentials. This can be a problem as Yahoo recently reset all the passwords for the accounts which were affected by the hack. If you don't remember your login credentials, it will be a nightmare to get back into the app.
What is the Cache Data Stored by Yahoo Mail App?
Cache data stored by the Yahoo Mail app simply saves certain application related files the first time you run the app. Examples of these files include icons, images, etc. The cache keeps getting larger as you continue to use the app. By clearning the Cache, you are tuning up your app. Cache data is considered as junk files and clearing them don't cause any problems to the app.