Why Teksavvy?
I had been a loyal customer of Teksavvy DSL Internet service for several years until the speed went to near zero mbps/sec and their customer service failed to find any root cause. I was on a 5 mbps/sec plan and had a consistent speed of atleast 2 mbps/sec for few years before it hit a mere 0.45 mbps/sec. Life became miserable all of a sudden and a change was required. After looking through many other service providers, I finally decided to switch to Cable Internet. Acanac at the time was offering $39.95 per month for 25 mbps Cable Internet if paid for 12 months in advance. The price did not include the one time activation fee of $45 and the cost for the modem. Acanac's no contract monthly plan was priced at $45.95 for the same speed. However, Acanac does have a peak hour limitation which greatly reduces the speed from 7PM-12AM. Though Acanac has unlimited bandwidth allocation, the peak hour limit was a major setback for me.
Teksavvy offers the same 25 mbps/sec service for $39.95 per month without contract. A generous 300gb bandwidth limit is included in the package.On top of that, there is a $65 one time setup fee. A $20 discount is given on the setup if the customer buys the modem through Teksavvy. There are various modems available through Kijiji and Craigslist at a discounted price. However, I opted to buy their Thompson DCM 476 modem for $99 plus $10 shipping to save on the setup fee. The difference between buying a modem through Kijiji and Teksavvy is not very significant in terms of cost.
Speed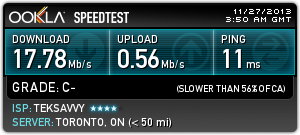 I have been greatly pleased with the consistent high speed Teksavvy offers. For the first few days, I was getting close to 30 mbps/sec. This was above the package I signed up for. But then the reality started setting in. My speed stabilized at around 17 mbps/sec. This is still above my needs and I am very pleased with it. There seem to be no peak hour limit during 7PM-12 AM. The speedtest result shown to the right was taken at 10:30 PM EST. However, I did notice a significant drop in speed sometimes during the day between 10 AM and 2 PM. Those seem to be isolated events as the speed remained near 17 mbps/sec 95% of the time.
Reliability
I have been a cable internet user for over a year now and so far I did not face any downtime at all. That is a two thumbs up for Teksavvy. However, once in a while, the modem automatically disconnects and reconnects to the net out of the blue. That can be quite annoying. Overall, the reliability is fabulous and falls in the positive territory.
Customer Service
Not the worst in the world but calling Teksavvy can result in long waits on the phone. However, the feature about their customer service that I admire is the ability to opt for call back service. Teksavvy always calls back when a customer service rep becomes available. This allows minimal waiting on the phone. The staff are knowledgeable and courteous.
Conclusion
The above review is based on my personal usage. Other users may have different experience with Teksavvy. However, I personally do recommend going with their Cable Internet service as there is no contract involved. Please share your experience or comments about Teksavvy at the bottom.